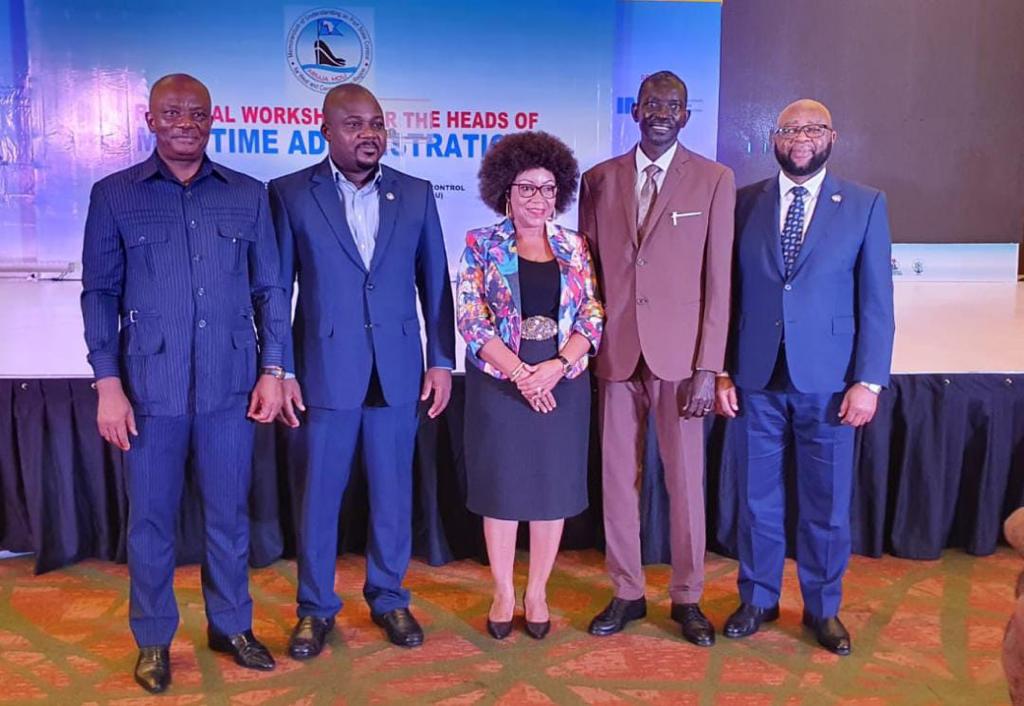 Our Managing Partner, Mrs Mfon Ekong Usoro served as a consultant of the International Maritime Organisation at the Regional workshop for the heads of Maritime Administrations(MARADs) organised by the Memorandum of Understanding on Port State Control for West and Central African Region(Abuja MoU) in collaboration with the International Maritime Organisation (IMO) held on 9-11 May, 2022 at Eko Hotel, Lagos.
The Abuja MoU is one of the Nine(9) Regional MoUs established pursuant to the IMO Resolution A.682(17) of 1991 and implemented on the 22nd October, 1999 in Abuja covering 22 Countries with 18 of these countries having full member Status.
The workshop was established to reiterate and amplify the core objectives which informed the founding and establishment of the Abuja MoU which includes the elimination of substandard shipping, prevention of marine pollution and improvement of the living and working conditions of seafarers aboard ships.
On Day 1, our Managing Partner who has extensive National, regional, continental and international experience in the sector led conversations on the Responsibilities of MARADs as flag state to include implementation of the IMO and domestication of relevant international instruments, establishment of institutions for Enforcement as well as Evaluation and regular assessment of recognized organizations. She also discussed the responsibilities of Coastal States to include the need to guarantee right if Safe passage of ship, the obligation to prevent pollution and the provision for reception activities. Mrs Usoro further trained participants on Regional Port State Control (PSC) regimes highlighting the Status, need for harmonization and Co-operation with other PSC regimes.
On day 2, Mrs Usoro led the breakout sessions with Heads of MARADs to understand the challenges they face, their Expectations from Abuja MoU and the Expectation of Abuja MoU from MARADs.
On the third and final day, Mrs Usoro led the analysis of the annual report and presented the draft record of Action Plans for adoption by all participants.
As a remark, she reiterated the need for gender balance in the Maritime sector, applauded the countries with female representatives and encouraged others to open up the spaces for women to take advantage.
The workshop had in attendance 19 African Countries and also had in attendance Mr William Azuh, head of African Section, Technical Cooperation Division of the International Maritime Organisation, Dr. Magdalene Ajani, the Permanent Secretary of the Federal Ministry of Transportation as representative of the Honourable Minister for Transportation, the representative of the Director General of Nigerian Maritime Administration and Safety Agency(NIMASA),  the Secretary General of the Abuja MoU, Captain Sunday Umoren and Captain Babacar Diop as the lead consultant of the IMO.
The frontline role of Mrs Usoro in the Maritime sector remains a great encouragement for women to take advantage in the space and would serve as an inspiration to others as the International Day for Women in Maritime is celebrated on 18th May, 2022.